Certificate in
Paralegal Studies Graduate Certificates
George Washington University - College of Professional Studies

Scholarships
Explore scholarship opportunities to help fund your studies
Introduction
As Washington DC's only academic-credit bearing paralegal studies program, the GW Graduate Certificate in Paralegal Studies and the Graduate Certificate for California Paralegals are more than just powerful credentials; they are a signal to the best employers that you withstood the academic rigor of one of the nation's best paralegal programs.
You'll study with the nation's leading experts and get the critical knowledge and skills you need to enter legal, corporate, healthcare, or government practice with confidence and acumen. Paralegals perform substantive legal work, but may not provide legal services directly to the public except as permitted by law.
If you choose, you can apply either the 18-credit or the 24-credit graduate certificate toward the 32-credit master's degree in Paralegal Studies. And as a credit-bearing program, these GW certificates qualify for military benefits and federal financial aid.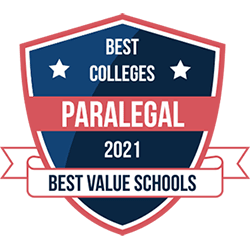 Program at a Glance
These certificates are geared towards working professionals and other nontraditional students. Evening classes and online options help you manage your life's multiple priorities.
This academic credit-bearing credential has been named among the best in the nation and will boost your professional profile in tangible ways.
With alumni across the country and in Guam, Puerto Rico, the Virgin Islands, Italy, China, Japan, England and Taiwan, you'll join a global network of professionals.
Where You'll Study

You can study on campus at the Graduate Education Center in Alexandria, Virginia or online. Students in the online program must take nine semester credits of legal specialty courses through synchronous instruction. This will be provided through live online class sessions.
You can study at the Graduate Education Center in Alexandria, VA & Foggy Bottom Campus in Washington, DC or online
What You'll Study
The Graduate Certificate in Paralegal Studies comprises the Core Course Sequence, made of six courses and equating to 18 credits. These required courses provide the perspective and understanding you need to enter the legal field. Completion of this certificate typically takes two or three semesters.
The Graduate Certificate for California Paralegals comprises the Core Course Sequence plus any two of the Legal Practice Areas courses -- including the highly recommended California Law and Practice course. This set of eight courses, or 24 credits, builds on the foundational knowledge you will gain in the early courses and allows you to expand your knowledge in alignment with your academic and professional objectives. Additionally, this graduate certificate fully compiles with the educational requirements outlined in California Business and Professions Code, Chapter 5.6, §6450 (c), thereby allowing you to qualify as a paralegal in the state of California. Completion of this certificate typically takes three or four semesters.
English Language Requirements
Certify your English proficiency with the Duolingo English Test! The DET is a convenient, fast, and affordable online English test accepted by over 4,000 universities (like this one) around the world.